5 Inch "Tom Rolt" Narrow Gauge
Introducing this magnificent 5 Inch Gauge "Tom Rolt". A model based on the popular locomotive of The Talyllyn Narrow Gauge Railway in Wales.
A Brilliant Narrow Gauge Live Steamer
This model represents our first narrow gauge model and fulfils a need for a relatively simple engine that is a powerful workhorse for its size. It is sure to be a favourite at clubs offering public running.
It is presented in the standard Talyllyn livery of deep bronze green lined with black borders and yellow lining. The model is delivered fully painted and lined and is ready-to-run "out of the box". It comes completed with a fully certificated silver soldered copper boiler, CE and UKCA marked. Every model comes with a full 12 months warranty.
Dimensions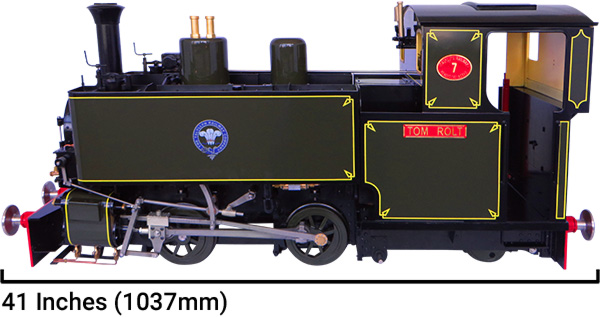 Length 1037mm
Width 345mm
Height 488mm
Weight 88.22 kgs
Specifications
Axle driven feed pump, hand pump.
Injector.
Walschaerts valve gear.
Piston valves.
Double feed mechanical lubricator.
Twin boiler sight glasses.
Mechanical cylinder drain cocks.
Twin safety valves.
Silver soldered copper boiler.
Etched brass bodywork.
Buy from a trusted Australian seller
Fastest Delivery

Fast delivery anywhere in the World with local stock dispatched same day!

Outstanding Quality

All of our trains are produced to a high quality standard and include warranty.

Australian Seller

Real Aussie enthusiests selling premium quality products.