Special 50th Year Commemorative Model
Each loco is numbered from 1 to 50.
Signed certificate of authenticity.
Numbered print of Evening Star signed by Chris Ludlow.
Comprehensive 12 Months warranty.
Available in green or black livery.
Do not miss out!
This magnificent locomotive will be limited to 50 units world wide, and each loco will be numbered from 1 to 50. Purchasers of the model will also receive a limited edition, signed print of Evening Star signed by renowned railway artist Chris Ludlow.

An exhibition quality model offering oustanding value for money.
The "Evening Star" was a real head turner when in service and the model in 5" gauge is no different. It is not only stunning visually, but is also an impressive performer. The 2-10-0 wheel formation is designed to deliver maximum traction and pulling power.
You would be fortunate to purchase a commercially manufactured boiler, lost wax castings and raw materials for the price you will pay for this fine model, which is delivered to you fully painted and lined and ready-to-run. If you prefer your 9F to be presented in unlined black livery with the locomotive number of your choice we are happy to provide this option.
Dimensions.
Length: 1828mm
Width: 240mm
Height: 350mm
Weight: 120kg

Specifications.
Coal fired live steam.
2 Outside cylinders.
Walschaerts valve gear.
Cast iron cylinder blocks (bronze liners)
Steam operated drain cocks.
Mechanical lubricator.
Silver soldered copper boiler.
Multi-element semi-radiant superheater.
Reverser.
Boiler feed by axle pump, injector, hand pump.
Stainless steel motion and grate.
Sprung axle boxes with needle roller bearings.
Etched brass body with rivet detail.
Two safety valves.
Available in two liveries.
Painted and ready to run.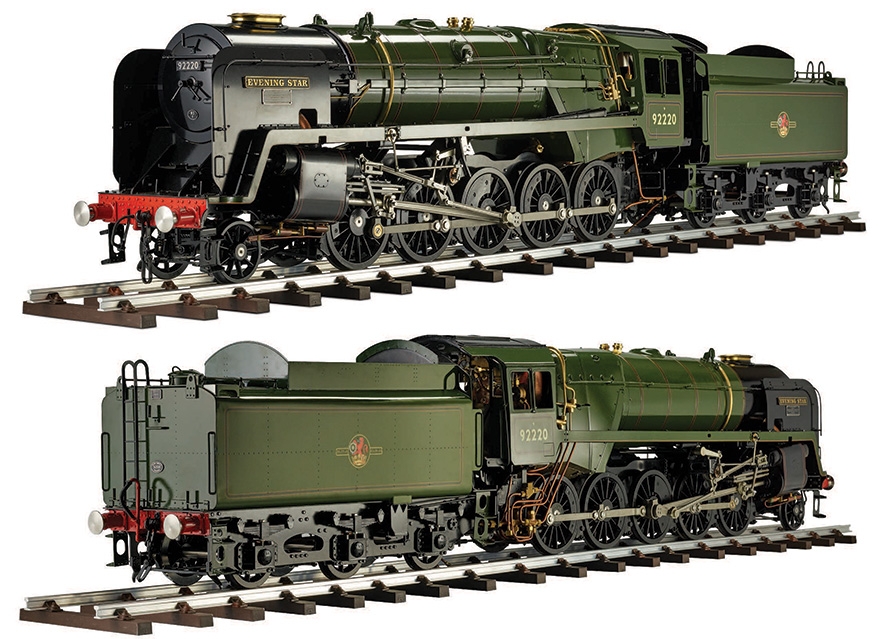 Britain's last steam locomotive
The 9F Class represented the last in a series of successful BR Standard Classes designed by R. A. Riddles and his team. This heavy freight locomotive was the consummate performer with a tractive effort approaching 40,000 lbs. First introduced in 1954 the number built ultimately totalled 251 which were allocated to Eastern, London, Midland and Western Regions.
The 2-10-0 wheel arrangement was selected following Riddles success with the wartime Austerity Class. The 9F's were built at the time of British Railways transition from steam to diesel traction and their service lives, as a consequence, were remarkably short.
The last of the Class was withdrawn 50 years ago in 1968, the end of the steam era and one we would like to commemorate with this wonderful 5" gauge live steam model.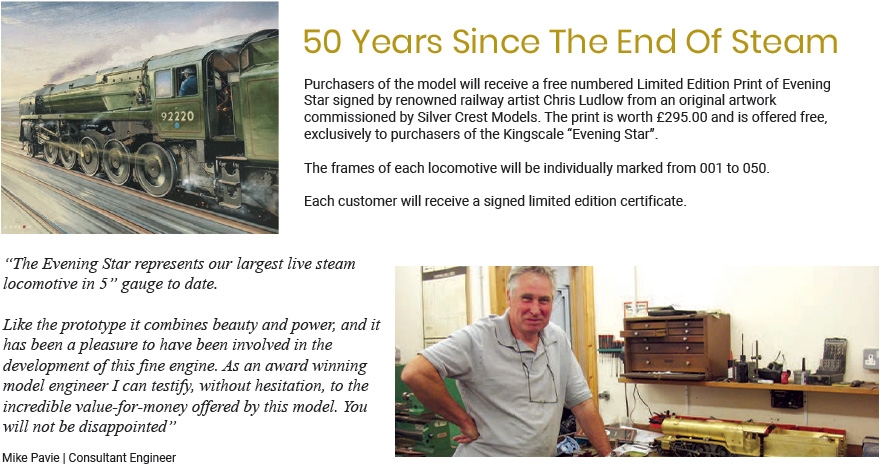 The reason for choosing "Evening Star" as our limited edition commemorative is self-evident. Not only were the 9F's amongst the last types to be withdrawn from service, "Evening Star" itself was the final steam locomotive to be built for BR. It was decided that such a significant event could not pass without fanfare and the engine was given the evocative name "Evening Star" in a ceremony at Swindon Works in March 1960.
Unlike the rest of the Class, that had all been out-shopped in BR un-lined black livery, Evening Star was turned out in the old Swindon tradition of fully lined BR passenger green livery with copper capped chimney.
Buy from a trusted Australian seller
Fastest Delivery

Fast delivery anywhere in the World with local stock dispatched same day!

Outstanding Quality

All of our trains are produced to a high quality standard and include warranty.

Australian Seller

Real Aussie enthusiests selling premium quality products.